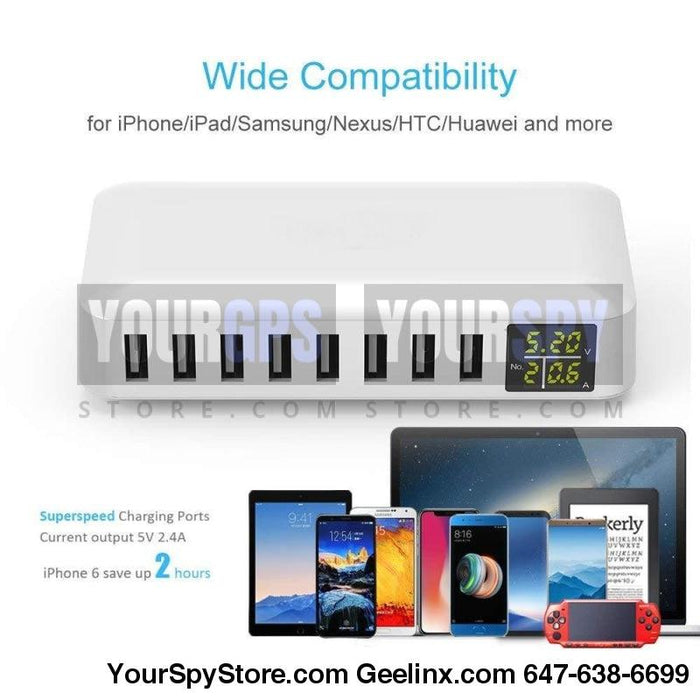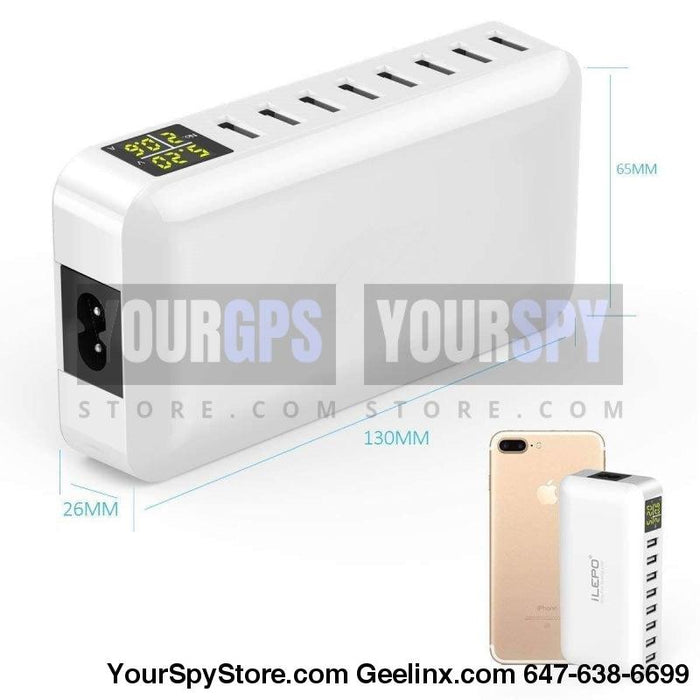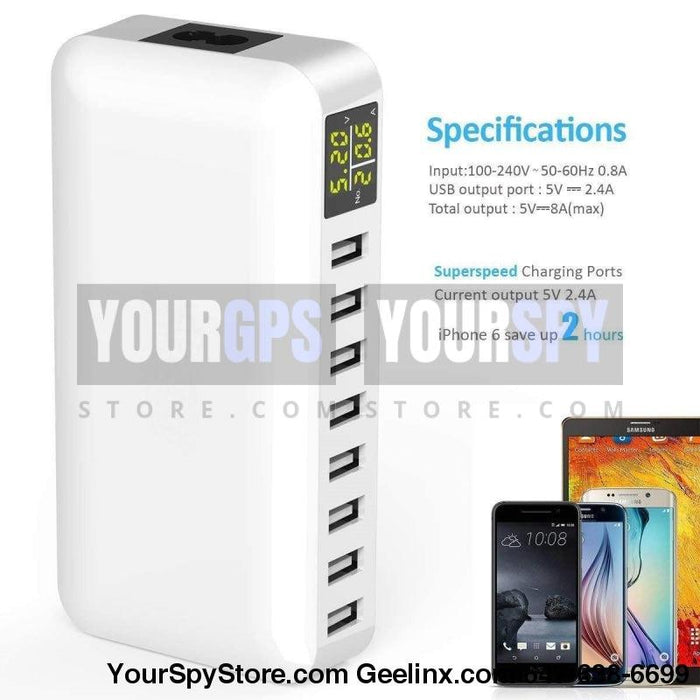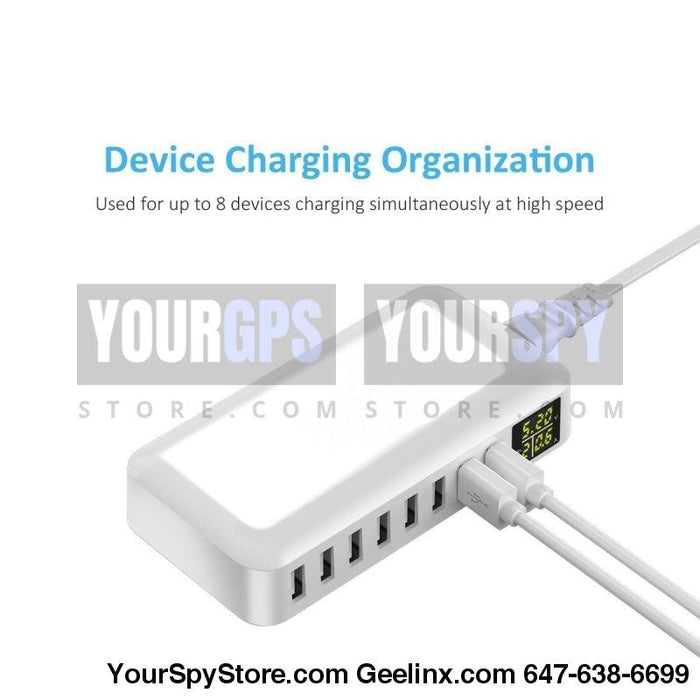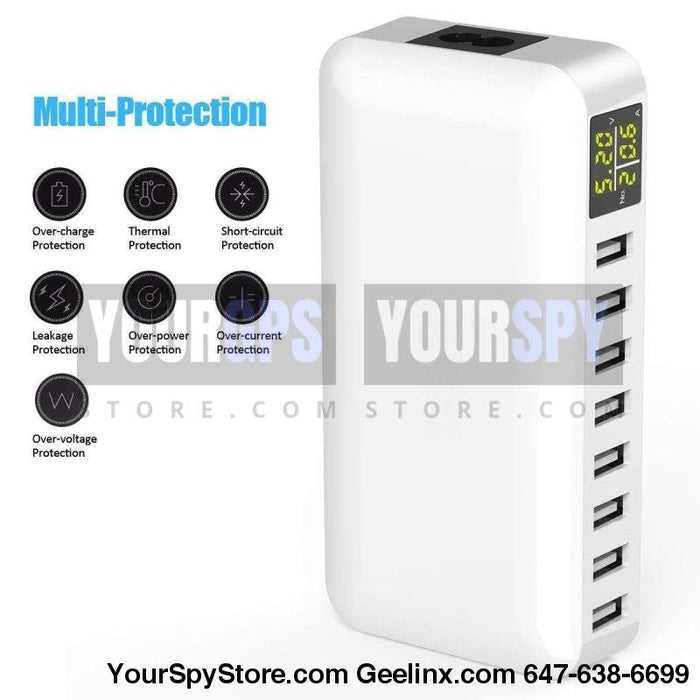 8- Port USB Charger Charging Station for Multiple Devices with LED Display (Laptops/Tablets/Phones)
LCD Display-- LCD digital display technology can automatically recognize the current and voltage of each port on the screen when your electronic devices plug in. [Notes: If devices charging current is less than 0.1A, the charging status can't be displayed, but still be in charging]

Fast 2.4A USB Charger Port-- Each port of the charging station recognizes the exact current requirements of a connected device and delivers the right amount of the current for a safe and fast possible charging.The charging current up to 2.4A per port or 8A overall.

USB Charger for Multiple Devices-- 100-240 volt AC input voltage supports 8-port charging simultaneously. 40W 8A allows 8 devices charging at high speed.Great power adapter for iphone, ipad,Samsung,Nexus,HTC and other smart devices etc.Much perfect for indoor or outdoor use with only one usb hub.

Safety Protection---Build-in overheat, overcharge, overcurrent protection, greatly improve the battery life and more securely protect your device during charging 【Note: This item will be in over-current when the total current exceeds 8A, so, please charge your device less than 8A】
Main Features:
※Power Organization 
Charging 8 different devices simultaneously (The total current must be less than 8A), reduce the number of USB wall chargers required and freed up outlets in your home and office.
The 1.2m length power cable is long enough to let the charger reach further or hide out of sight.

※Overcharge / Overheat Protection
The device will power off automatically when input/output current over safety current (8A). This ensures that your devices are protected against over-heat, over-current and over-charging.

※Safe and Compact 
The smart multiple USB charger is a new generation of the circuit design with safety system, which ensures safety use. And the compact size, smaller than Iphone 6, very easy to take with you to anywhere.

※Strong Compatibility
Compatible with Apple iPad 2/3/4, iPad Air, iPad Air 2, iPad Mini, iPhone 5/5s//6/6s/6 plus/6s plus/7/7plus, Samsung Galaxy Tab A, Tab E, Tab S, Samsung Galaxy S6/ S6 edge/S7/ S7 edge, 
Note 2/3/4, Asus, Acer, HTC, Nokia, Bluetooth headset or speaker, and other Android/ Windows tablets. 


Specifications:
1. Model: USB hub charging station
2. Input: 100-240V~50-60Hz 0.8A
3. USB Port Output: 5V~2.4A
4. Total Output: 5V 40W 8A(Max.)
5. Plug: US Plug
6. Net Weight: 320 g (including power cable)
7. Socket Size: 130mm *65mm*26mm (L x W x H) 
8. Removable Cable Length: 120 cm (4ft) 
9. LCD screen protective film: can be tore off before using.


Caution:
1. Avoid electric shock only suitable for dry waterproof environment use.
2. Do not pull the lead or plug hard.
3. Stop using the charger when damaged.