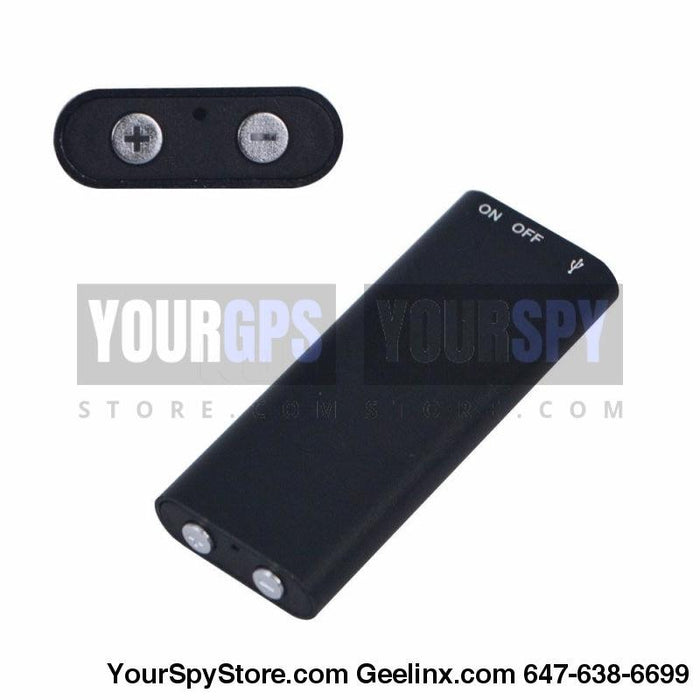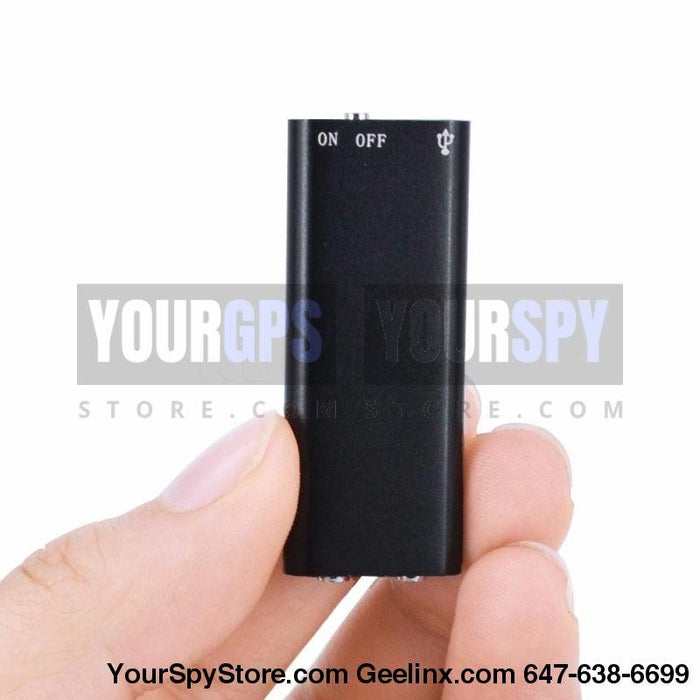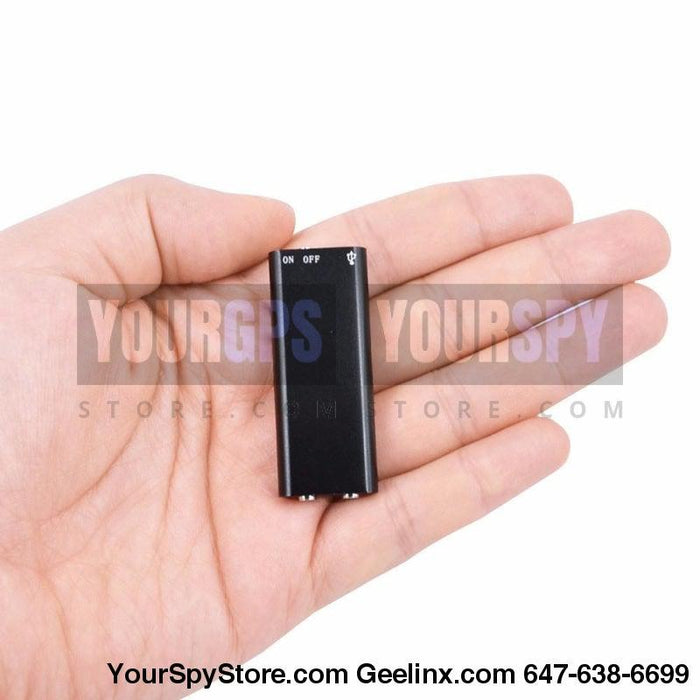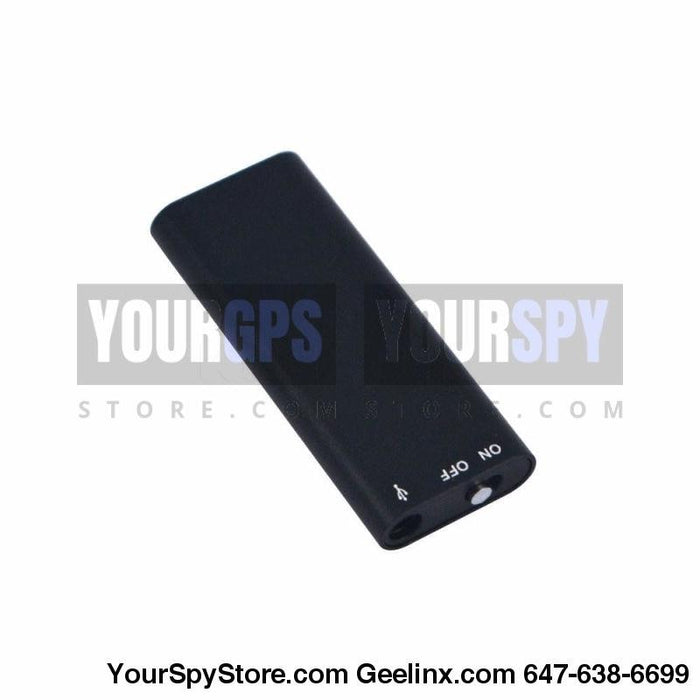 8GB - 3 in 1 SPY USB Digital Voice Recorder + MP3 + Flash Drive 13-15hrs Battery Life (Up to 93 hrs recording time)(Metal casing)
3 in 1 MP3 Digital Hidden Voice Recorder Product Information:
8GB Memory Capacity 
Holds over 93 Hours of Recordings
3 in 1: Voice Recorder + 8GB USB Flash Drive + MP3
High Quality Device
Crystal Clear
Durable Metal Casing
MP3 Player (Playback Recordings)
Ultra sensitive microphone  (20 Feet)
Up to 15 hours Battery life (Continuous Recording Mode)

EASY SWITCH OPERATION (ON/OFF)

Full Charge: 2 Hours

Continuous Recording Mode

Keychain Hanger

Long-time recording
Recording Quality:

 

192kbps

Format:

 

WAV
Date and Time stamp
Easy to use, plug and play

Ultra Slim design

No flashing lights during recording 
Our customers get a full demo of the products & tested at time of purchase for quality assurance.
Our Powerful 3 in 1 Hidden Small Digital MP3 Spy Voice Recorder  with Continuous Voice Recording Mode Is Here!
Looking for an affordable yet powerful Voice Recorder? 
Are you worried about missing important conversations,meetings which you can't recall according to your memory or handwriting ?
Do you want to catch all the main points of the conference?
With our upgraded 8GB - 3 in 1 SPY USB Digital Voice Recorder + MP3 + Flash Drive 13-15 Battery Life (Up to 93 hrs recording time)(Metal casing) you'll never miss a word again! Featuring double the memory of the original Model where you can now store over 93 Hours of Audio Recordings. Other upgrades include a more powerful battery which lasts up to 24 hours (Device Tested In house) on a single charge (Continuous Recording Mode). In addition with our new Model you are able to know when your recordings took place with TIME & DATE Stamp (windows only). This might be very helpful if you need to provide specific evidence to your lawyers. 

Use our 8GB - 2 in 1 SPY USB Voice Recorder to extend your memory, to capture great ideas and conversations, meeting discussions, verbal business agreements and any other audio recording you need to keep. 
This voice recorder features simple one-key recording (ON/OFF) and longtime recording - no software to install. Not only does it make audio recordings, but it also works as a regular USB flash drive.
Main Features

Continuous Recording Mode
Simply turn the devices switch to ON and it will begin recording right away. The sensitive microphone can detect sound up to 20 feet away making it very convenient for when you plan to hide the device and or in big lecture rooms. The battery will last up to 24 Hours (Device Tested In house). 

Time/Date Stamp (Windows only)
Comes with a software program to set time/date on your recordings so you know when each one took place. Perfect for Evidence purposes. 

HD Quality Audio (192 kbps)
Files are recorded in WAV format and can be played back in any audio program including VLC Player, iTunes or Windows Media Player. 

New Sleek Design
Looks like an ordinary MP3 Player making it discreet to anyone.

Records While Plugged In + ! 1 full day of Battery Life.
Use the built-in battery as your power source or plug into any High Quality and Over Charge Protection capable USB power source or the optional USB charger for unlimited recording power. Takes only 2 hours to fully charge and you can also use a Power Bank to extend the Battery life of the device for even longer recordings. 

93 hours Audio Capacity
No need to worry about running out of space, this recorder can hold enough audio for almost any purpose. 

8GB Memory
With double the memory as the original Model (discontinued), it can hold 93 hours of audio files! This recorder can hold days of audio!

MAC & Windows Compatible
Works on any MAC or Windows computer. Just plug it in and it functions as a USB storage device. Note: For the Time & Date Stamp feature please use a Windows Computer.
Specifications
Memory Capacity: 8GB
Maximum Recording Capacity: 93 hours
Battery Life(continuous): 13-15 hours
Charging Time: 2hrs
Size:

 6.5 * 2 * 0.8cm

Weight: 26G
Audio Format: WAV
Audio Quality: 192 Kbps
Battery Type: Lithium-Polymer
Battery Voltage: 3.7v
Battery Capacity: 100 mAh
Battery Type: Rechargeable
Battery Location: Inside unit
Color: Black (Durable Metal Casing)

Compatibility: Windows XP / 7 / Mac OS 10.3 / Linux Red Hat 8.0+




Battery
Package Contents:
1 * USB Voice Recorder
1 * User manual